About ISB
In Silico Biology
Journal of Biological Systems Modeling and Multi-Scale Simulation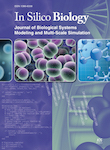 ISSN
1386-6338 (Print)
1434-3207 (Online)
Subject Group
Biochemistry, Medicine & Health

In Silico Biology  is a scientific research journal aiming to advance the use of computational models and simulations in studies applied to complex biological phenomena. We publish peer-reviewed leading-edge biological, biomedical and biotechnological research in which computer-based (i.e., "in silico") modeling and analysis tools are developed and utilized to predict and elucidate dynamics of biological systems, their design and control, and their evolution. Experimental support may also be provided to support the computational analyses.
Abstracted/Indexed In
Academic Source Complete
CAB Abstracts
Chemical Abstracts Service
Chemical Abstracts Service (CAS)
EBSCO databases
Elsevier BIOBASE
Embase
Google Scholar
Inspec IET
MEDLINE
Microsoft Academic Search
PASCAL
Pubmed
Scopus
Ulrich's Periodicals Directory
Web of Science: Biological Abstracts
Web of Science: BIOSIS Previews
Subscribe
For subscription information, click here.
Audience
ISB's targeted audience is comprised of users of the application of theoretical, mathematical and computational tools onto biological systems.
The Publisher
For over 30 years IOS Press has been serving the scientific community worldwide. IOS Press publishes approximately 75 new books each year and around 90 international journals, covering topics ranging from computer science and mathematics to medicine and the natural sciences.
All titles are available online as well as in print. Many titles are listed in the most important abstracting databases, such as Thomson Reuters, MEDLINE and Scopus.
Headquartered in Amsterdam with satellite offices in the USA, Germany, India and China, IOS Press has established several strategic co-publishing initiatives. Notable acquisitions included Delft University Press in 2005 and Millpress Science Publishers in 2008.
IOS Press journals are available through our IOS Press Content Library. We offer our complete ejournals collection of journals at a deep discount.
Open Access
IOS Press is committed to support the computational biology community and will provide free open access to all published papers that were submitted for review prior to Dec 31, 2019. A fee may be applied for open access after that date (the current fee is €900 or US$1250).